Tilt and slide balcony doors - PSK DUOLINE
Elegant, durable tilt and slide doors in wood and aluminium technology.
High-quality wooden profiles available in three depth options and in three wood types, ensuring classic look that matches perfectly the flat interior.
A number of coluor combinations both for wooden profiles and the aluminium clads.
A possibility to produce large-size glazing that guarantees access to daylight in the room.
High safety level thanks to the aluminium profile stability combined with MACO fittings. 
Easy to conservate.
Focus on ecology because of special water-based types of varnish.
Wide possibilities to customize the interior resulting from great selection of covering (RAL)  and transparent paints.
High level of energy efficiency and sound insulation cause of optimum quality of materials used for production, special sealing system and the proper glass packages. 
Profile
Wooden profile - 68mm in two types of wood: three- or four-layer solid square timber: meranti 450+ and pine.
Glass
Two-glass package of 24 mm thickness, with thermal transmittance coefficient of  Ug=1,0 W/(m2K) according to PN-EN674 in standard. The possibility to apply two or three-glass packages.
For Duoline 68 mm – max. glass package is  46 mm with thermal transmittance coefficient of Ug = 0,6 W/(m2K).
Glass with enhanced sound insulation, tempered, safety, anti-burglary, ornament, solar protective.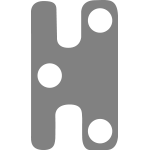 Fittings
Tilt and slide MACO MULTI MATIC KS fittings with 4 locking bolts and micro ventilation bolt. 
Choose a colour that suits you